Recently, SmartGen has completed debugging of a sand mining ship in Hunan province, and has been ready to deliver to customers.
The ship is equipped with four pump units and two main propulsion units, the unit adopts Cummins engine and HMC9000 engine controller. The alarm protection and information display, local/remote data transmission and speed control performance meet customer requirements after debugging.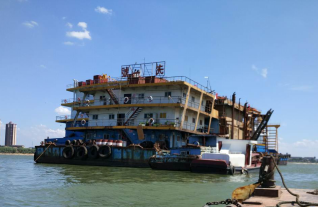 Picture: a sand mining ship on the scene
HMC9000 series engine controller of SmartGen can be widely applied to marine emergency units, main propulsion units, main generator units or water pump units, with remote monitoring module interface is used for remote monitoring, can start/stop remotely.
This controller integrates digitization, intelligentization and network technology, it achieves automatic start/stop, data measurement, alarm protection and "three remote" (remote control, remote measuring and remote communication).
This controller with SAE J1939 interface can communicate with ECU engines. Multiple parameters such as engine speed, water temperature, oil temperature, oil pressure can be transmitted via this communication interface and displayed on controller. This port also enables all kinds of module expansion; it combines fast data transmission, simple connections and high reliability.
More features please inquire offices.
Debugging site photos