Last week, we introduced the automatic power station solutions composed of HMC6 power management controller, in which HMC6 control module can form a set of power management system quickly by networking with each other. In addition to meeting the demanding requirements of new ships on the power station, it also has advantages in the field of old ship power station remoulding. Due to using the compact structure of integrated control and display design, the users only need to find the appropriate panel cutout space on the door of switchboard to complete the installation of the controller quickly.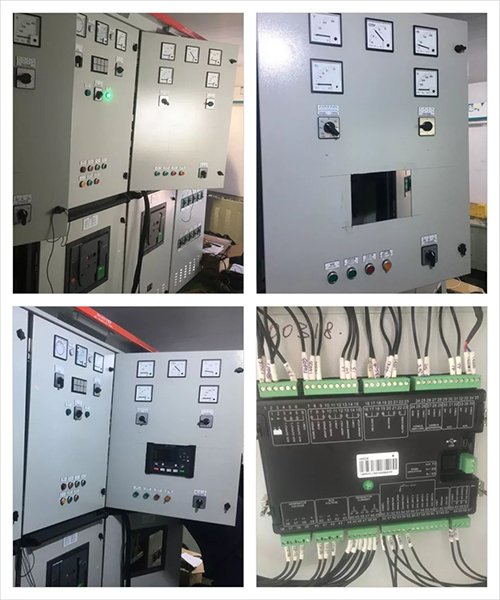 Remoulding Site of Automatic Power Station
Next, we will introduce an automatic power station solution that is suitable for PLC control based on the synchronization, load distribution and power protection modules provided by SmartGen.
Power Management System: HSM Synchronous Module + HLS300 Power Share Module + HMP300 Power Integrated Protection Module + PLC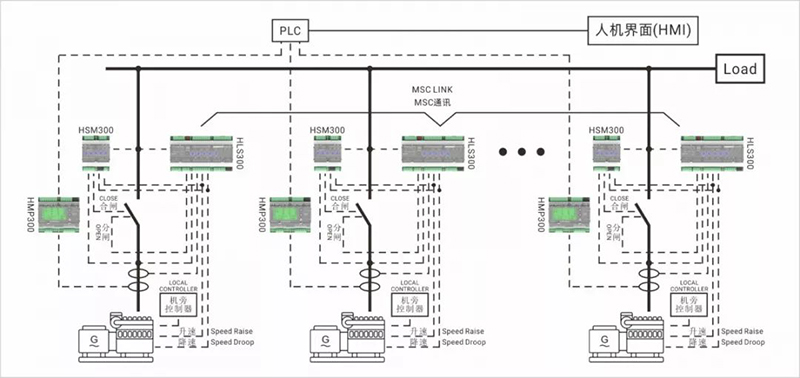 In this solution, HSM300 synchronization module is used to realize the function of controlled automatic merging, and based on load sharing of active power is completed through HLS300 power share module, which can support the automatic synchronization and load distribution of up to 16 diesel gensets. The HMP300 power integrated protection module with communication function realizes the functions of reverse power, under voltage, over frequency, three-stage over current protection and electric parameter monitoring required by the power station, so as to form a complete set of parallel and protection system. Designers can easily obtain electrical parameters and alarm information transmitted by HMP300 module through PLC 485 or CAN communication port, in order to focus on writing complex power management systems in PLC control system, such as automatic start and stop based on priority setting, heavy-load inquiry and busbar partition power supply, so as to improve development efficiency.
With its high flexibility and excellent cost performance, the application scheme has been widely used in marine engineering platforms, business ships, cruise ships, passenger rolling ships, container ships, bulk carriers, chemical ships, ocean-going fishing boats and river ships (ships operating in rivers and lakes) and other types of automatic power stations.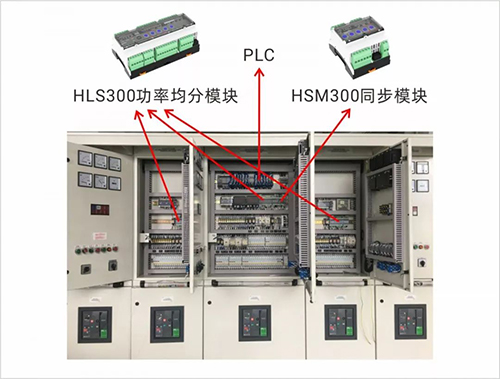 Automatic Power Station based on HSM300 Synchronizatio Module + HLS300 Power Share Module + PLC
Each module in the above scheme can also be used independently according to the technical requirements of the power station to adapt to a low-cost marine power station that only requires power protection, automatic load distribution or automatic merging.
HLS300 power share module can collect L1, L2, L3 three phase voltage and A, C two phase current, electric parameter sampling accuracy is higher than the only equivalent load of single phase current distributor in unbalanced three-phase system, which abandoned the traditional analog load distribution line, but adopted the CANBUS to improve the load distribution, the response speed and precision of the power sharing compared with similar products that have obvious improvement. HLS300 can be networked separately to form a semi-automatic power station with automatic load sharing.
HSM300 synchronization module automatically completes the detection of parallel conditions (voltage difference, frequency difference, phase difference, etc.) according to the set parameters, and sends out the parallel signals in time when the conditions are satisfied. The HSM300 can be used by itself on the auto cabinet.
The HMP300 Power Integrated Protection Module has the functions of power acquisition, harmonic monitoring and multi-function protection, as well as CANBUS or RS485 interface. It supports the j1939-81 generator electricity data communication protocol or Modbus RTU communication protocol, and can conveniently transmit electricity parameter data to PLC control system or AMS alarm monitoring platform. At the same time, the module has four programmable relay output ports, which can meet the requirements of power generation over voltage, under voltage, over frequency, under frequency, reverse power, over power, three-stage over current protection, harmonic monitoring and alarm and etc,. It is widely used in harmonic monitoring of electric propulsion ships, electric quantity monitoring of ships without switchboard (small yachts and catamarans), and quality monitoring of container power supply.
Each module is built with debugging port of SmartGen, and the core parameters can be set through the host computer software provided by our company for free. Users do not need to limit the parameters when ordering. With the debugging software of corresponding modules, the parameters and alarm information related to the power station can be directly monitored, which can significantly improve the debugging efficiency of the power station load test.