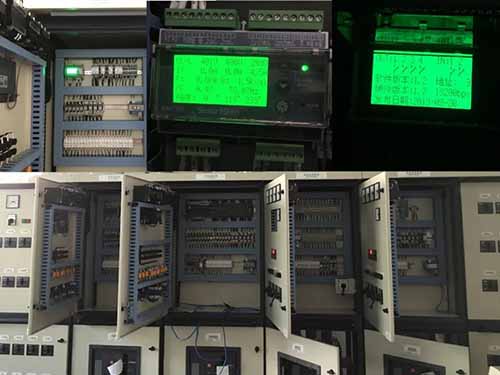 HMP300-2 Power Integrated Protection Module was used for the main distribution board of 50000DWT Bulk Cargo Ship
HMP300 power integrated protection module is a high-performance control module developed by SmartGen in combination with the design requirements of marine power distribution system, which integrates the measurement and collection of parameters such as voltage, current, frequency, power and power quality of the generator, abnormal protection and communication transmission functions. It has been certified by CCS and was widely used in marine and land power distribution.
This series of module can be configured at the most four programmable output ports and and two programmable input ports, the designers with a HMP300 control module can reach ever need voltage protection, current protection, reverse power protection and frequency protection and voltage/current harmonic distortion rate and the electrical parameter collection that may kinds of single function module to achieve technical index, can protect diesel gensets, axle gensets and emergency gensets, significantly increase the system integration and cost-effectiveness ratio of AMS and the PMS system structures.

The harmonic detection function of HMP300 series control module
There are two submodels HMP300 and HMP300-2 designed for users to better meet different technical requirements: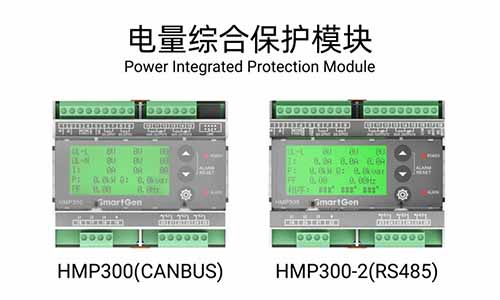 HMP300 is equipped with a communication interface supporting CANBUS2.0B protocol, which is mainly used to communicate with the marine engine control module of SmartGen to achieve power data acquisition and display; The model also has differential protection, which can be used to protect the three-phase leakage current of generator or motor.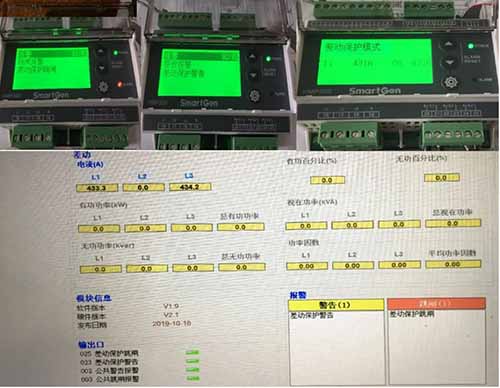 Differential Protection Mode of HMP300
HMP300-2 is equipped with RS485 interface supporting Modbus-RTU communication protocol, which is mainly used for generator and bus protection and transmission of information to the main logical control unit, and supports the function of customizing Modbus-RTU communication protocol. In addition, HMP300-2 is specially optimized for the protection of steady-state frequency fluctuation and transient frequency fluctuation of the axle geneset. Users only need one HMP300-2 to protect all the electrical parameters of the axle genset.
The backlight LCD (132x64) on the module can visually display the values of various electrical parameters and alarm information, and supports display Chinese and English. Users can switch the display interface and modify the core configuration parameters by touching the button.
Technical parameters of HMP300 series control module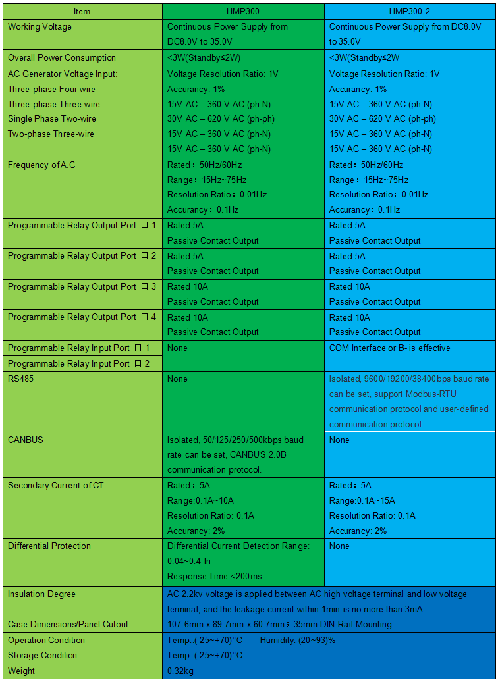 Application example of HMP300-2 protection shaft belt genset
To help you better understand the design concept of the module, the following are some examples of parameters of HMP300-2 used in the protection projects of shaft belt genset: AC400V50Hz, 450KW, steady-state frequency fluctuation ±5.5%, 10s; transient frequency fluctuation ±11%, 5s.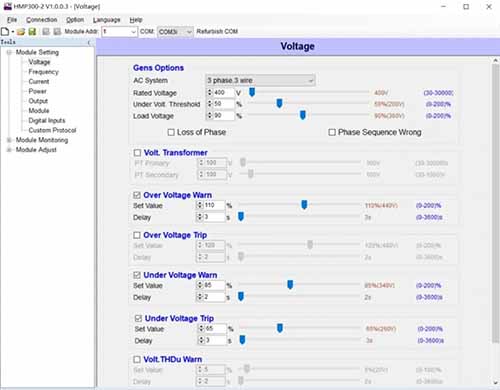 Voltage Protection Parameter Setting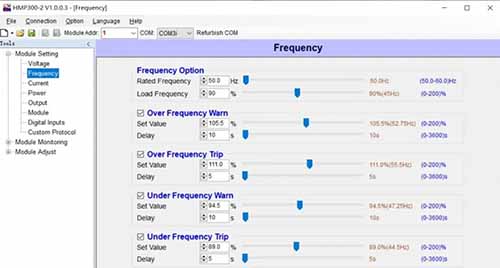 Frequency Protection Setting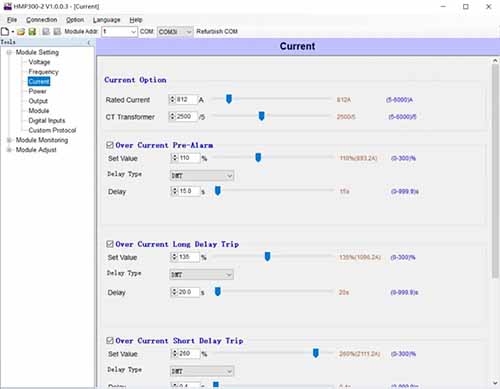 Three-stage Overcurrent Protection Setting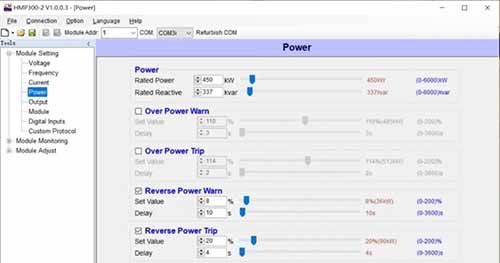 Reverse Power Protection Setting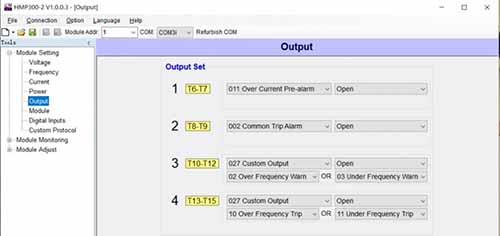 Programmable Output Port Setting

Digital Input Port Setting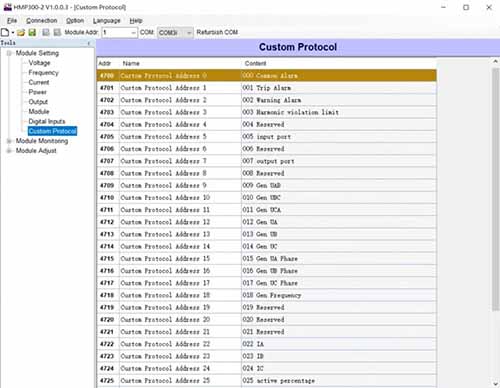 User-defined Communication Protocal Setting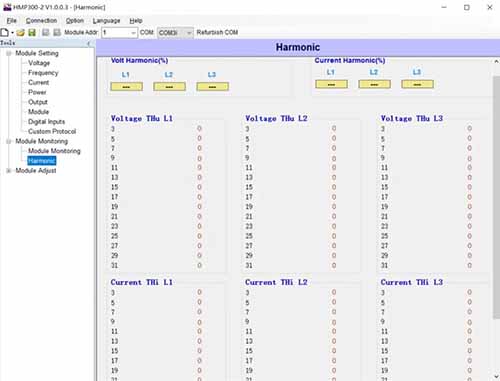 Harmonic Detection (HMP300-2 can detect odd harmonics of 3~31)
We also develop relays used for voltage, frequency, current, reverse power with single function and multifunctional protections, while in order to facilitate on-site debug and parameters configuration, SmartGen developes a special PC test software for each control module, users can access to relevant information from our website for free.
Information address for HMP300 power integrated protection module: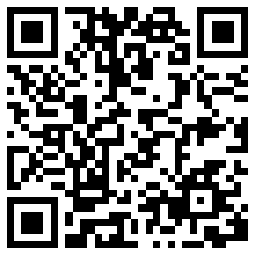 Information address for HMP300-2 power integrated protection module: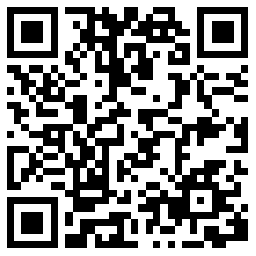 Information address for HPD300 reverse power protection relay multifunction protection: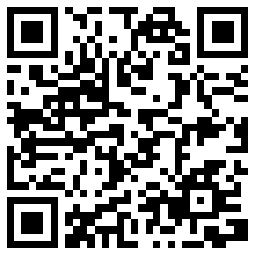 Information address for HVD300 voltage detection multifunction protection: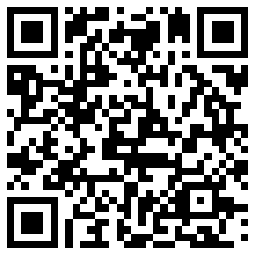 Information address for HOC300 overcurrent protection relay multifunction protection: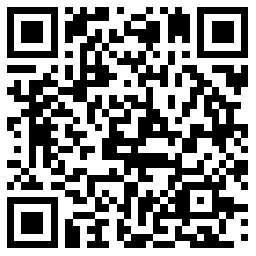 Information address for HFT300 frequency detection relay multifunction protection: